Weekend Getaway with Kids in Candidasa
We all need a holiday sometimes, but parents will know that if the kids aren't busy, you never really get a break. Keeping kids happy and entertained is the only way to get a chance to relax. Candidasa is a lovely town in East Bali to get away from the busier parts of Bali. What can you do with kids there? Read on to find out.
Go snorkeling
Candidasa is famous for its wonderful marine life just off the coastline. Whether you want to wade in from the shore or get a boat to take you out a bit further, kids can join in. If they aren't yet strong swimmers, a life vest or some kind of floatation device is necessary.
Learn to dive
If you have kids that are a little older Candidasa is a great place to learn to dive. From age 10 kids can get PADI certified starting off in the pool at Lotus Bungalows Candidasa. This is an amazing experience to have with your kids and could lead to a lifetime of memories from family diving trips.
Hang out in the pool
There's hardly a kid out there that doesn't love playing in the pool. In fact, usually the hardest thing about the pool is trying to get them out of it! Get a couple of floaties and make sure they are well covered in sunscreen and enjoy some time by the pool. If you are extra lucky, you might even be able to read a book in a hammock under the shade of swaying palm trees (while keeping one eye on the kids of course).
Enjoy Playtime

In the beautiful tropical gardens of Lotus Bungalows, a kid's corner has been created to keep little ones entertained. Toys, dolls, and a fun teepee will keep them busy and get their imaginations firing. This is a beautiful space for relaxing and enjoying some quality time together without being stuck inside.
Have a delicious meal
Keeping kids well fed is essential for their happiness as well as yours. Whether you have adventurous eaters or the pickiest of kids, you will find something they like. The restaurant at Lotus Bungalows serves delicious homemade Italian pizzas and pastas, local favorites, and fresh seafood.
Head to the beach
There is a small but perfectly formed slice of white sand beach in front of Lotus Bungalows Candidasa. At low tide it is an ideal place for kids to play. If they need a little more space to frolick in the sand, one of the best beaches in Bali is only 15 minutes drive away. Pasir Putih Bugbug, often referred to as Virgin Beach, is a long stretch of sand backed by coconut palms. It's a great beach for a day of making sand castles, swimming, and enjoying seafood fresh out of the water.
Check out the lotus lagoon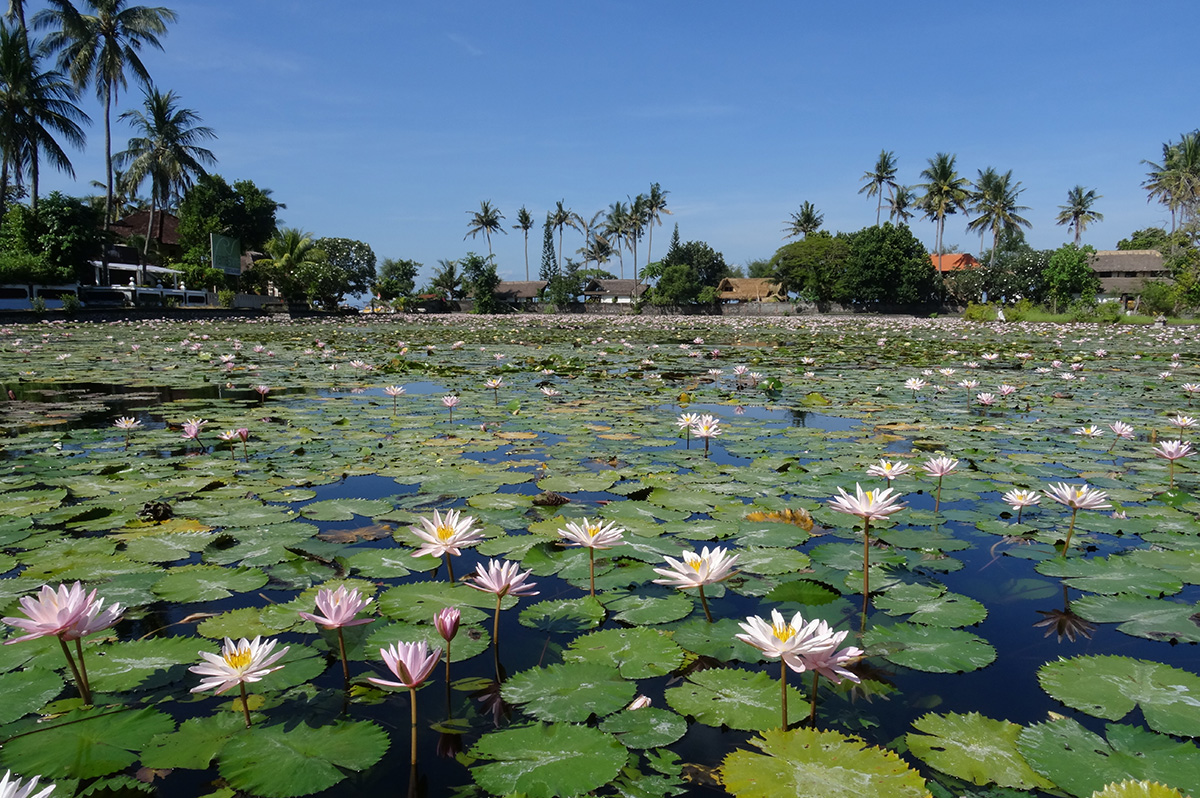 One of the icons of Candidasa is its beautiful lotus lagoon. The lagoon is an easy stroll from Lotus Bungalows and is lovely to just walk around. Your kids will love looking out for fish and frogs in the water and watching dragonflies dart around. You may also see people fishing in the lagoon. It is also a great place to take some photos of your family.
Visit the Bali Aga
One of the most interesting places to visit in East Bali is the village of Tenganan. This is a Bali Aga, or original Balinese, village around 10 minutes drive from Lotus Bungalows Candidasa. The village is very welcoming and easy to walk around. It is especially interesting for children to watch how the local people weave geringsing cloth on large looms. If you happen to be there at the right time you might even get to see their Perang Pandan (pandan war) ceremony, which is a big annual event.
Have you thought about visiting Candidasa with kids? If you have, you can now be confident that there are plenty of things to keep kids occupied in this quiet town. Maybe you have been to Candidasa with kids. If so, we'd love to hear about your experience in the comments box below!