Visit Old Bali at Tenganan Village
Have you heard of Tenganan Village? It's one of the oldest villages on the island of Bali and is only around 10 minutes from Lotus Bungalows Candidasa. You can learn so much about Bali's history and the Bali Aga people when you visit the village so don't miss it.
Who Are The Bali Aga?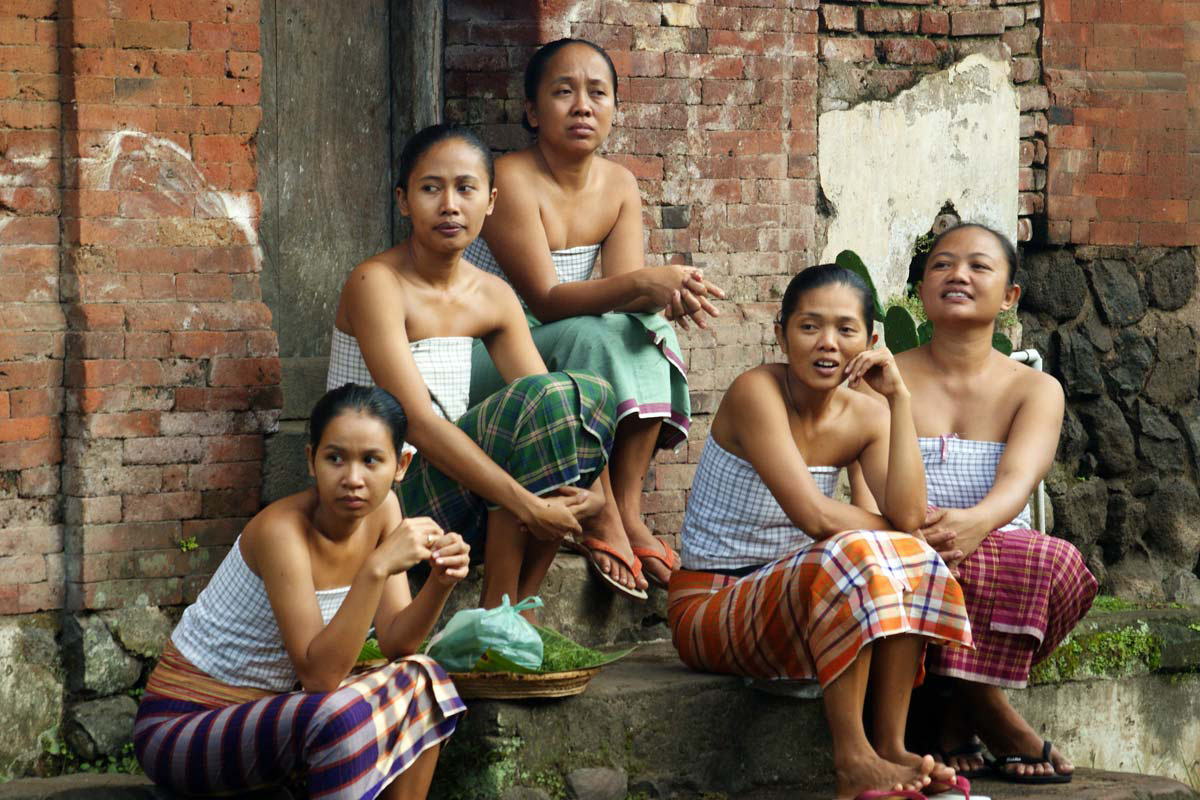 The Bali Aga people are a unique ethnic group thought to be the original inhabitants of the island of Bali. These people arrived in Bali well before the Majapahit dynasty invasion in 1343AD and have had a secluded village in Tenganan for the last 700 years!
They continue to practice a way of life quite different to modern Balinese, and even look slightly different. The villagers of Tenganan are known to be tall and slim with paler complexions than most Balinese people. They are also generally soft spoken and have very gentle manners.
Family clans are ruled by a council of elders who are also religious priests and until recently it was completely forbidden for Bali Aga villagers to marry outside the village.
Why is Tenganan Village Different?
Tenganan is a walled village, with only four gates facing to each of the four points of the compass. A massive Banyan tree surrounded by a low wall of uncut stones is the centre of the village. In this enclosure is the sacred temple of the village.
Villagers do not recognize individual ownership of property so each house in Tenganan looks exactly the same. They are arranged in a linear fashion with a flight of steps leading to a small gate opening into a courtyard with sleeping quarters, kitchen, and a long house for storage. A small empty shrine gives spirits a place to rest when they visit their descendants.
What You Can See in Tenganan
Tenganan is now open to tourists to see the way of life there. It is very famous for its unique woven textiles called Ikat Pangringsingan. However, this isn't just a craft they make to sell. Geringsing cloth is used in all the most important ceremonies, from the hair cutting ceremony for a small child, to marriage and death. You can watch the women of the village weaving these beautiful textiles and also buy one to take home.
Another major event in Tenganan village is the Mekare-kare or Perang Pandan (pandan war) ceremony held once a year. This is a ritual drawing of blood using sharp pandan leaves.
The men of the village fight each other with these spiky fronds, protecting themselves with woven rattan shields. The traditional gamelan musicians play frantically and the women dress in their best geringsing and watch from the sidelines.
This ceremony is usually held at the end of June and draws large crowds. You can book a driver from Lotus Bungalows for this amazing cultural sight.
Etiquette When Visiting Tenganan
When you visit Tenganan you must be respectful to the villagers and their sacred spaces. Never enter a house or temple without being asked to. You don't need to wear a sarong and sash, but it's not appropriate to show a lot of skin. A pair of shorts or a skirt and a t-shirt is fine as long as they aren't too short.
The Bali Aga will expect you to take photos of them and their village, but it's always nice to ask before you shoot.
Organizing a Tour to Tenganan Village
You can tour Tenganan any day of the week by booking a driver from Lotus Bungalows. You can also rent a motorbike or bicycle to get there on your own.
Would you like to see the Bali Aga village of Tenganan? Let us know in the comments below what appeals to you about learning more about the history of Bali.