Your Ultimate Guide to Diving in East Bali
East Bali is a mecca for divers from all over the world. It's chilled out vibe and numerous dive sites close to the coast make it a great place for beginners or experienced divers alike.
Where to Dive Around Candidasa, Bali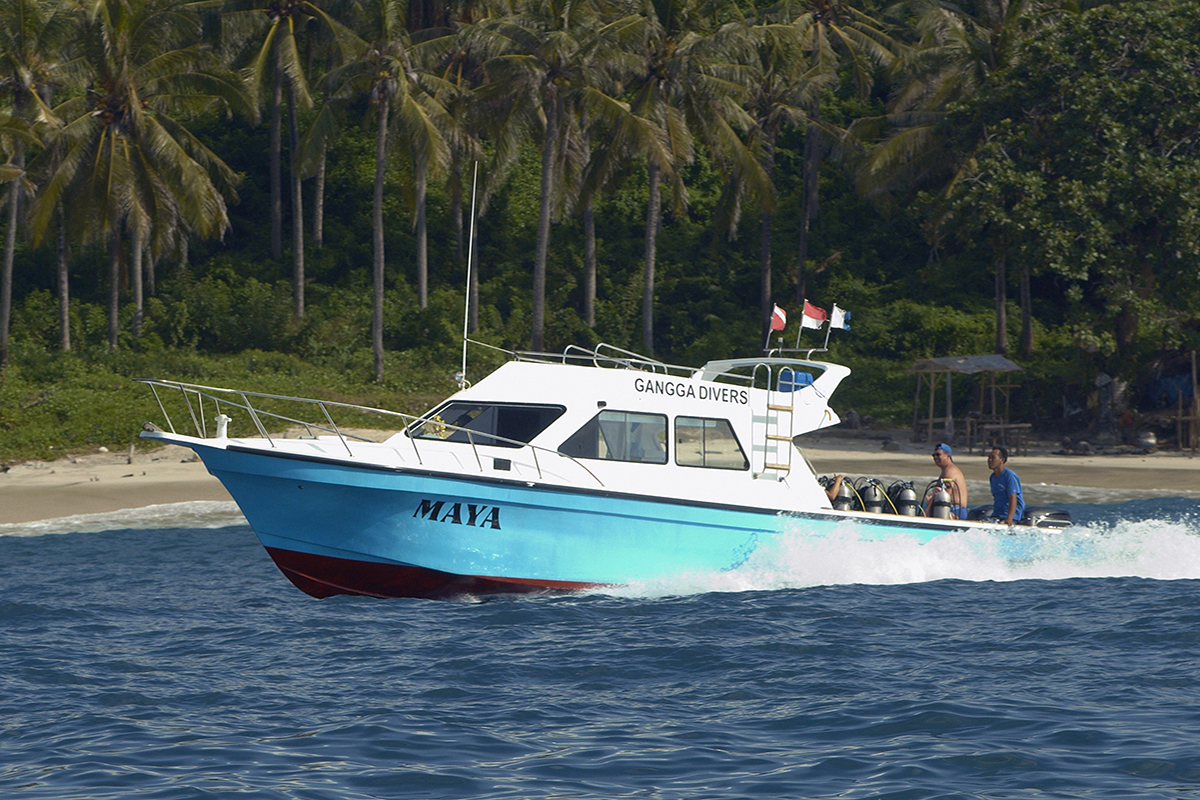 The 4 Gilis
If you look out from Candidasa you'll see the four small rocky islands of Gili Tepekong, Gili Biaha, Gili Mimpang and Gili Selang. These outcrops are famous for shark sightings, including white and black tip reef sharks, rare wobbegong and cat sharks, and even a hammerhead if you are really lucky.
Between August and October you have a very good chance of seeing the incredible oceanic sunfish, or mola mola. These are the heaviest and boniest fish in the world, weighing in at between 250 and 1,000 kg!
The water is clear and visibility very good year round in this area, but it can be a little chilly. Some divers choose to wear a light wetsuit while diving here.
Padang Bai
Padang Bai is known as East Bali's port town, with fast boats and ferries departing and arriving to and from Lombok and the Gili Islands day and night. However, it is also a great place to dive, and muck divers can rejoice in the amount of fantastic critters to be found here.
Off Padang Bai there are 7 dive sites with coral gardens galore. These sites are appropriate for divers of all levels and are filled with anemone fish, octopus and occasionally sharks and turtles. Muck diving sites often turn up some special sightings like frogfish, seahorses and sometimes even blue-ringed octopus.
Nusa Penida & Nusa Lembongan
Nusa Penida and Nusa Lembongan are the islands off the south east coast of Bali, around 30-40 minutes by boat from Candidasa. Manta Point and Manta Bay are the biggest attractions for divers as there is a good chance of seeing Manta Rays. However, there are also many impressive wall dives, and drift dives as the currents can be strong.
In the right season, you can dive with sunfish and also might spot dolphins, reef sharks and a wide array of colourful tropical fish.
Amed
Amed is the name used for the collection of small fishing villages on the very easternmost point of Bali. Amed is around 1 hours' drive from Lotus Bungalows in Candidasa. In the bays of Amed there are a number of very good muck dives with incredible macro life. Underwater photographers will love this area for its seahorses, frogfish, ghost pipefish, mantis shrimp, nudibranchs, saddleback anemone fish, long horned cowfish and plenty more
The other 4 exceptional dives here are Pyramids, Amed Wall, Bunutan and the Japanese wreck. All of these are boat dives with exception of the Japanese wreck, but are within 10-15 minutes of the shore.
Pyramids is interesting as it gets its name from the shape of the artificial reefs created by the local dive community. The structures attract snapper, puffer fish, ghost pipefish and nudibranchs. There is also a natural reef here where various eels, stingrays and harlequin sweetlips are spotted.
Bunutan is one of the deeper dives, 30+ metres, and has some of the most varied marine life in the area. You'll see everything from snapper, to fulsiliers, and larger pelagics like reef sharks and trevallies. There are also gorgeous barrel sponges and coral bommies adorned with gorgonian fans of many species and colours in the protected shallows.
Tulamben
Lastly, and furthest round the coast from Candidasa is Tulamben, best known for the USAT Liberty wreck from WWII. Before the 1963 eruption of Mount Agung this wreck was on the shore, but was shaken into the sea by the volcanic activity and has been there ever since.
The wreck is covered in corals and fans, which are home to a beautiful array of marine life. There are also 2 other dive sites here – a drop off and a coral garden. Divers of any level can dive here and will be impressed with the range of fish from tiny muck critters to snapper, grouper, barracuda, and occasionally black tip reef sharks.
Ready to Dive Around Candidasa?
Now you know a little more about your diving options around Candidasa and East Bali are you ready to go? We can help you plan your whole trip; just leave us a comment below.