Bali's 10 Most Beautiful Beaches
Bali is famed for its beaches and believe us, there are plenty to choose from. However, we're picking just 10 of the most beautiful beaches in Bali to tell you about so you don't have to do the hard work researching for yourself. From East, to West, South, and the Island of Nusa Lembongan, find your perfect beach in Bali.
1. Pasir Putih Bug Bug
Pasir Putih, or White Sand Beach is not far from Candidasa in the quiet village of Bug Bug. A long winding road leads down to a grove of swaying palms where you can park and walk straight onto the beach. There are a few small warungs selling freshly caught seafood and simple local dishes like nasi goring (fried rice) and mie goreng (fried noodles), as well as cold drinks. Rent a chair for the day and enjoy the clear blue water and soft sand under your toes. This beach can get busy on the weekends but luckily there is plenty of beach for everyone and it never seems crowded.
2. Blue Lagoon
The port town of Padang Bai is known as the hub for boats to the Gili Islands, but it also has charms of its own. Blue Lagoon beach is tucked into a small bay on the east side of Padang Bai down a long set of stone steps. This is a great beach for snorkeling and swimming. The sand is white and the water clear and clean. Just make sure to check the tide as it can be difficult to access when the tide is all the way in.
3. Bias Tugel
Also in Padang Bai but on the west side of the port, Bias Tugel has been dubbed 'Hidden Beach' by the locals. It isn't quite as hidden as it used to be but it is still very beautiful. It's a short hike down to the cove but worth it for the pristine sand and lovely rock pools on either end of the beach to wallow in. On Sundays and in the evenings the beach becomes a hotspot for local couples but during the weekdays you can have the whole beach to yourself.
South Bali
4. Kuta Beach
There is a reason Kuta Beach is the most famous beach in Bali. Stretching for kilometres becoming Legian and Seminyak along the way, this white sand beach has long been a hangout for surfers and sun worshippers from all over the world. This might be a turn off for some but catch it at sunset and you will understand why people flock here. There is nothing quite like a Kuta sunset.
5. Balangan
South of the airport on the Bukit peninsula, Balangan is a 200 metre stretch of white sand popular with surfers and sunbathers. This beach is famed for the cliff top viewpoint at its north side that is a favorite spot for taking stunning panoramic photographs of the beach. There are also a few small warungs to get a bite to eat and a cold drink and also loungers to rent.
6. Bingin
Just a little way south of Balangan is the beautiful laid back beach at Bingin. This has grown up from a quiet surf spot to a trendy hang with cafes, villas, gyms and yoga shalas popping up all around the cliffs above the beach. However, the surf and sunsets are the main draws to this white sand cove so grab your boardies and head down the stairs to Bingin.
7. Green Bowl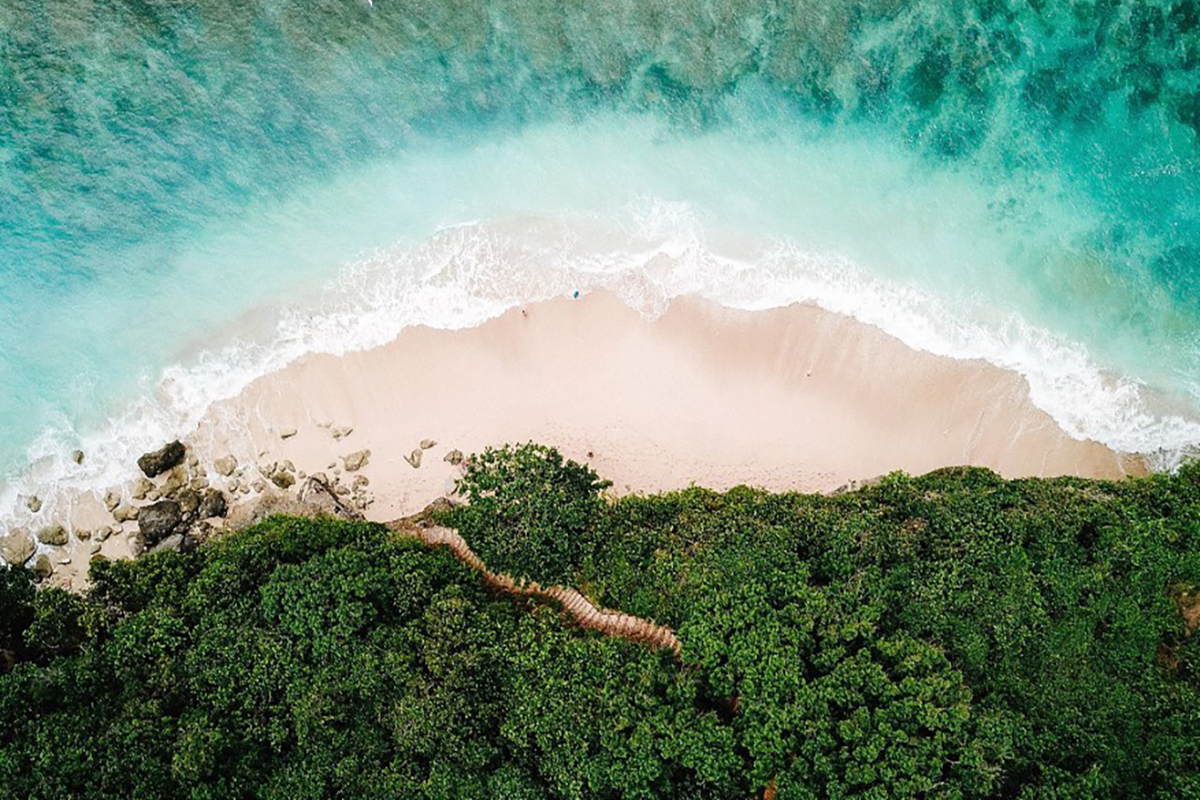 Even further south at the very tip of the Bukit peninsula you will find Green Bowl Beach. This is quite a hike down the stairs from the top of the cliffs but you will see it's worth the effort when you arrive on the perfectly white sand on this secluded 30-metre strip of beach. Most people who hike down the hundreds of stairs are surfers but even if you don't surf, this is a gorgeous beach to visit.
North Bali
8. Pemuteran
Way up on the north west coast of Bali almost touching the edge of the West Bali National Park is the tiny town of Pemuteran. Most toursits don't venture this far north but if you want to hide away and enjoy some peace, this is your dream come true. The beach at Pemuteran stretches long enough for a leisurely 1-hour walk along the bay, which is absolutely stunning at sunset. There is great snorkeling just off the beach and boats to Menjangan Island for some of the best diving in Bali.
Nusa Lembongan
9. Mushroom Bay
Popular for its crystal blue waters and excellent snorkeling, Mushroom Bay Beach has become one of the icons of Bali's southern island Nusa Lembongan. It might be a little busier than some of the other beaches on the island but that's because it is one of the most accessible. Sunset here will make you feel like you are on the tropical island of your dreams…because you are.
10. Jungutbatu Beach
Arriving at Jungutbatu on Nusa Lembongan is a feast for the eyes. The perfect blue water and perfect arc of white sands is the picture perfect tropical beach. There are lots of guesthouses and cafes around this beach and a walkway for romantic strolls with views across to Mount Agung on Bali's mainland. Sunsets are gorgeous and it can get crowded here in high season but as long as you don't mind sharing the beach, there is room for everyone.
From peaceful remote beaches to rowdy surf spots, Bali has it all. Take a tour and find out which one is your favorite. Do you know Bali's beaches already? We'd love to hear which Bali beach has stolen your heart so leave us a message in the comments box below.