Finding the Best Beaches in East Bali
Bali might be famous for its beaches, but like most tourist destinations, the most well known are the most crowded. However, if you're willing to get out and explore a little, Bali has tons of hidden gems.
In East Bali there are a number of beautiful beaches that you might have all to yourself. If you're ready to put in a little effort, read on to find out where you'll find the best beaches in East Bali.
Beaches in Candidasa
Candidasa is a small fishing village turned relaxed tourist town about 2 hours drive from Kuta. Thanks to its position on the coast, truly Balinese feel, and close proximity to dive sites, it has become a destination for discerning travelers.
There isn't a ton of beach in Candidasa because of erosion. However, there are some parts of white sand revealed at low tide that are within walking distance from Lotus Bungalows.
Virgin Beach (Pasir Putih Bug Bug)
Luckily, if you are really a beach lover, Virgin Beach , or Pasir Putih, is only 20 minutes from Candidasa. This is one of the most beautiful beaches on the whole island and is very rarely busy.
Down a bumpy road from the village of Bug Bug you'll find this lovely long stretch of white sand backed by a shady coconut grove. Small, simple warungs are dotted down the beach for snacks and drinks. You can also use the deck chairs, and showers of the warung you eat at.
It's good to be aware that the current can be strong at Pasir Putih and there are no warning flags or lifeguards. If you aren't a strong swimmer, splash in the shallows and enjoy the beautiful soft sand.
Also, you won't find anywhere to stay at this beach so Lotus Bungalows Candidasa is a great option. You can easily spend the day at the beach and then head back for a comfy night.
Beaches in Padang Bai
Blue Lagoon
Most people stop by Padang Bai to catch a ferry or fast boat to Lombok or the Gili Islands. You might just be surprised at what you find if you hang around though.
To the east of the port and main strip of beach is a small hill you can walk over to Blue Lagoon. This small beach is down a long flight of stairs cut into the cliff side. Warungs sit high above the beach away from the tide that covers up the whole beach twice a day.
Snorkeling and sunbathing are the ideal ways to spend a day at the Blue Lagoon. There are plenty of fish, critters, and sometimes even bigger pelagics like reef sharks to see if you swim out far enough.
Bias Tugel
On the other side of Padang Bai to the west of the ferry port is Bias Tugel. This beach is more hidden than Blue Lagoon and therefore usually quieter.
It's about 1.5km from the port to the beach, but you can drive or ride a scooter up to the top of the hill to make it more like 1km. As you come over the top of the hill you can see the sparkling water and white sand down below, which will entice you to speed up your pace.
There are very few warungs at Bias Tugel, but you can buy simple drinks and snacks. The rock pools at the ends of the beach are wonderful for wallowing in and you can even fish off the rocks. If you want a really quiet day at the beach you have found the right East Bali beach.
Again, currents can be strong, so be aware when you are swimming or walking on the rocks.
Jasri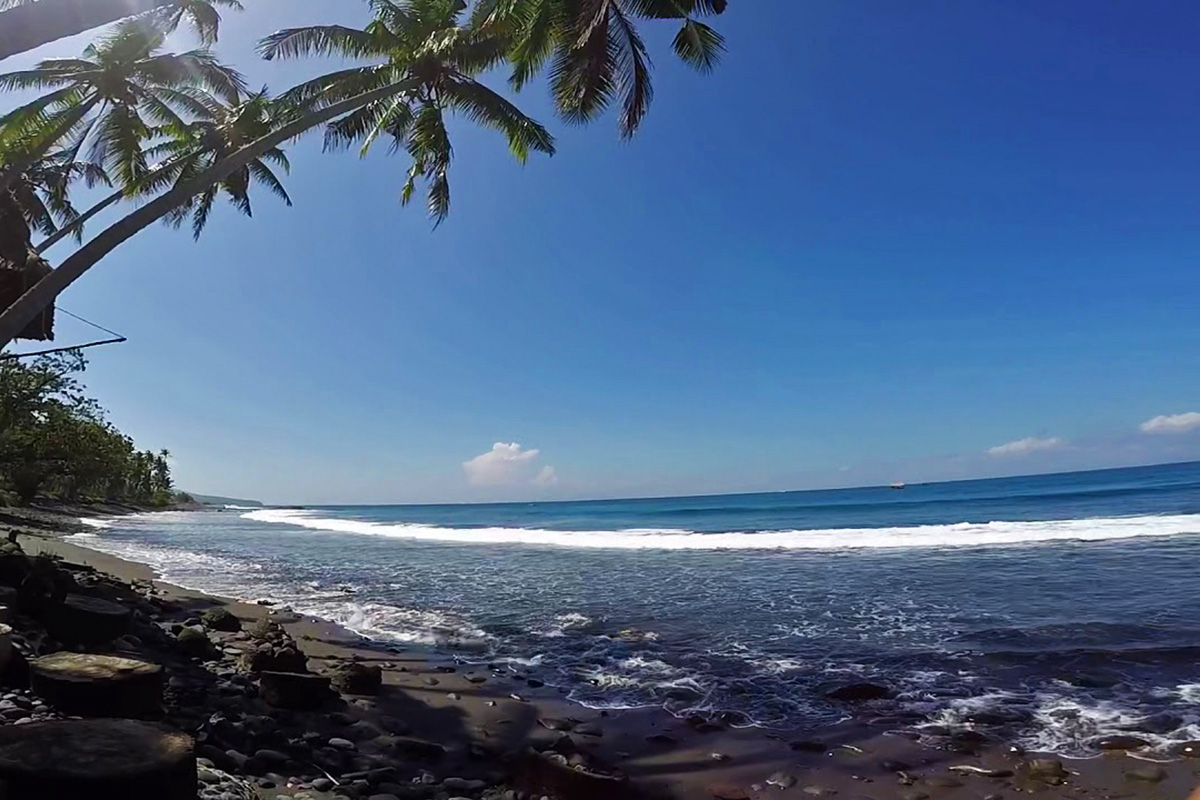 About 20 minutes from Candidasa is the black sand beach of Jasri. This really is untouched and perfect for those who want to see 'old Bali'. It's mostly frequented by surfers who want to get away from the big lineups at Kuta and Canggu, but you can also swim here.
Walks along this beach, chats with the local kids splashing in the waves, and looking for shells are wonderful ways to spend the day at Jasri in East Bali.
Ready to Explore East Bali Beaches?
East Bali is an area of the island that has stayed very traditional and natural. From Padang Bai, to Candidasa and Jasri, there are lots of beaches to explore. Do you prefer crowded beaches or like to get off the beaten path a bit? Let us know in the comments below.