10 Bali Moments You Won't Want to Miss
Bali is an islands of contrasts, colours, smells, tastes, and so many moments that will stick with you forever. You may have seen some of the following iconic moments photographed or filmed, but there is nothing like experiencing them for yourself.
1. Sunrise
Many people start the day before dawn in Bali but tourists usually miss this magical time. Just sitting outside your hotel or walking on the beach is special, but why not take it one step further? Mount Batur is one of the most breathtaking places to watch the sun rise over Bali. Hiking starts around 2 or 3am so it's not for the faint of heart but is 100% worth the loss of sleep.
2. Watch the Fishermen Bringing in Their Catch
In the coastal villages around the island many people still make their livelihood from fishing. Using traditional prahu, the colourful wooden boats you see dotted along the coastline, fishermen often go out before dawn. Bringing their catch up on the beach early in the morning, you can watch as they come up to the shore and work together to carry the boats onto the beach.
3. Cruise with Dolphins
In the north of Bali the seaside town of Lovina is famous for its dolphin tours. The numerous resident dolphins here pass by the beach every day making it perfect for cruising along side them in a small boat. Dolphins are social creatures and seem to enjoy playing alongside the boats, but do make sure your tour guide stays a respectful distance from the. They are still wild animals after all.
4. Water Purification
There are a number of 'water temples' in Bali where you can have 'melukat' or water purification. This ceremony cleanses body and soul using water from holy springs. The most famous of these temples is Tirta Empul, which is about 15 minutes from central Ubud. The water is crisp and cold in the bathing pool making you feel renewed when you dunk your head under the numerous spouts.
5. Ascending into the Clouds
Many people don't make it all the way up to the main temple at Lempuyang. This is due to the 1700 steep stairs that lead the way there. However, ascending into the clouds to this beautiful temple is something you won't forget in a hurry. Once you are in the temple, the gates make an amazing photo opportunity and the views will leave you absolutely speechless.
6. Swimming with Manta Rays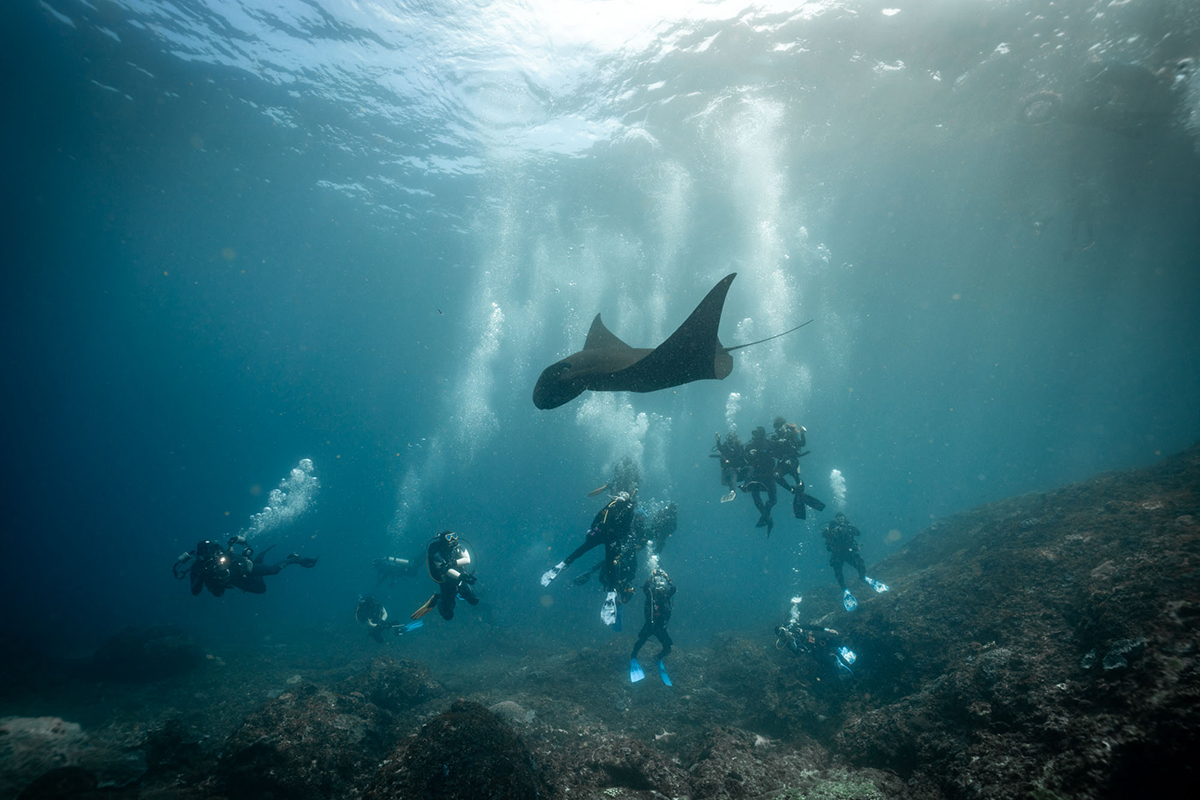 If you looking for a real jaw-dropping and humbling experience, swimming with manta rays won't disappoint. You can find mantas around Nusa Penida and Nusa Lembongan, just around 30 minutes from Candidasa. You can either dive or snorkel with the rays but make no mistake, swimming with these giants will stay with you forever.
7. Watching a passing procession
If you don't see a procession passing by in Bali you must be sleeping your way around the island. When one of these colourful Hindu processions passes, take time to really breathe in the sights and sounds of it. Maybe don't immediately whip your camera out, just sit and watch as it this age old tradition trails past.
8. Ngaben Cremation Ceremony
This may seem like a strange one to those who don't know about Balinese Hinduism. Cremation ceremonies are actually a time for celebration and sending loved ones off to their next incarnation. Watching a cremation, especially a mass cremation that many villages hold every 5 years, is a really special moment. People enjoy time with their families, performing religious ceremonies, eating together, and watching the spirits of their family members be released from this life.
9. Take a Walk Through a Night Market
Night markets are bustling social scenes with delicious smells and tastes to explore. The more traditional and less tourist-centric markets you can find, the better the experience will be. There are always sellers and locals to chat to, and lots of new sights to see. Try out Gianyar's night market or Kuta's, which is tucked in the backstreets away from the more touristy areas.
10. Sunset
Finally we get to the iconic Bali sunset. There are plenty of places to see the close of the day, but one of the most stunning is Uluwatu temple at the very south of the island. On the best days the sky fills with orange, pink and purple, but even on more subtle days there is nothing that beats a Bali sunset.
Have you added all these moments to your to-do list for your next Bali holiday? Or maybe you have already ticked some of these off. Tell us in the comments about the ones you have done already and the ones you still need to do.