5 Instagram Spots You Don't Want to Miss in East Bali
If you are a little obsessed with filling your Instagram with the most jealousy-inducing images, you'll want to make sure you hit all the best spots while you're staying in Candidasa. East Bali might not be high on most Instagrammers must-visit places, but doesn't that make it better for those who like to get off the beaten path a little for the Gram?
Check out our top 5 Instagram spots in East Bali
1. Pura Luhur Lempuyang
Ok, this spot is definitely Insta-famous, but it is also incredibly beautiful. Just under an hours' drive from Candidasa Pura Luhur Lempuyang is one of the oldest and most remote temples in Bali. It's also known as the temple of a thousand steps because of the long climb to the top.
If you're willing to put your leg muscles to the test you won't regret it. The views from the top are absolutely magnificent. The temple gates frame Mount Agung in the background and at sunrise you won't find a better view in all of Bali. Do be prepared to wait your turn for a photo though. This temple has become very popular with Instagrammers over the past couple of years.
2. Lotus Lagoon Candidasa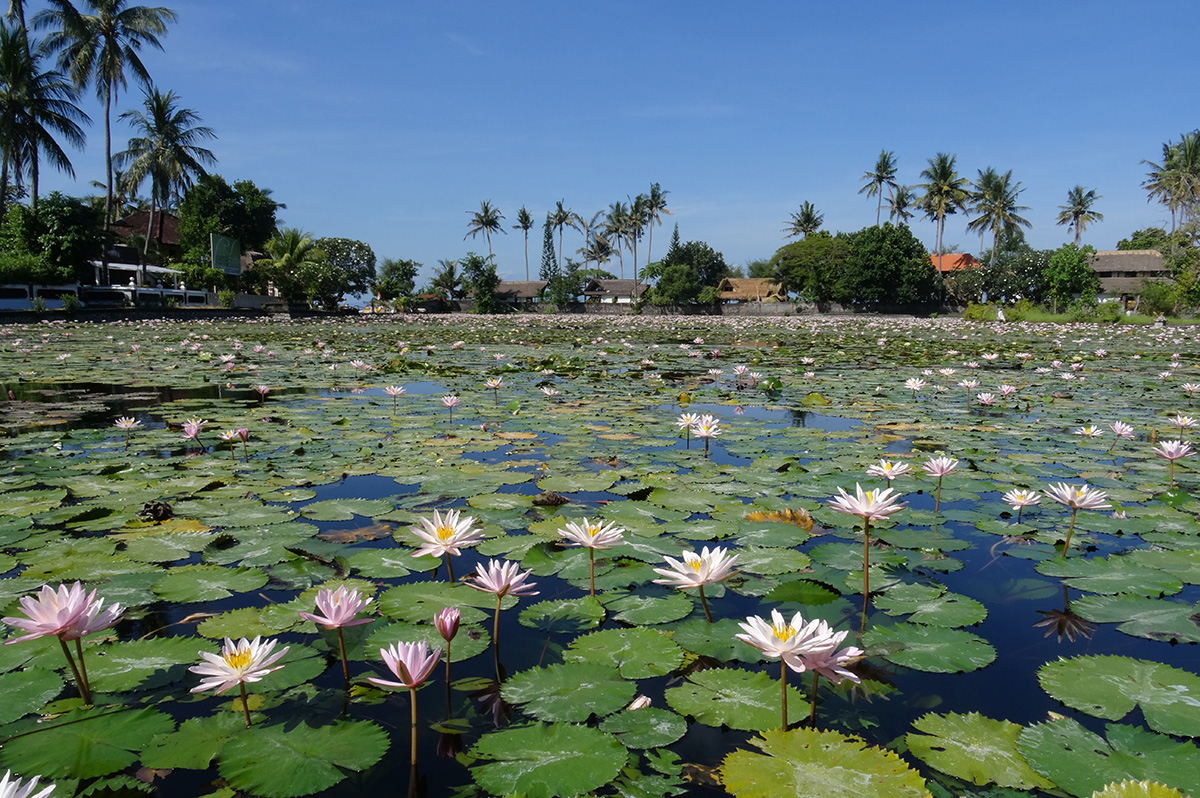 Much less of a trek from Lotus Bungalows is the famous Lotus Lagoon in Candidasa. The lagoon is a massive 1000 square metres and is covered in lily pads blooming with pink lotus flowers. The evening is a great time for a photo shoot here as the light softens and the heat of the day has passed.
You can also climb about halfway up the stairs to the temple behind the lagoon to get a better view of the whole area. From the steps you'll be able to see the whole coastline and even out to the islands just off of Candidasa.
3. Pura Luhur Besakih
The second temple on our list is actually the most important in Bali. Besakih is often referred to as the Mother Temple, and sits on the slopes of the holy volcano Mount Agung. The ornate stone stairs and temple gates are fantastically Instagrammable especially when you are in your temple sarong and sash.
It's very important to remember that ceremonies take place daily at Besakih so you must be dressed properly, respect the worshippers, don't enter any forbidden areas, and never sit or stand on any shrines, statues or temple walls to get your shot.
4. Tirta Gangga
Tirta Gangga is the water palace and gardens belonging to the royal family of Karangasem in East Bali. It was built as a show of wealth and a place to spend leisure time in the 1940s.
Today it is a beautiful stop on an East Bali tour. The lush gardens, huge fish ponds, and elaborate statues and fountains are the perfect backdrops for some stunning photos.
5. Pasir Putih
Your beach game on Instagram can still stay strong in East Bali despite Candidasa not having a lot of sandy spots. Pasir Putih or Virgin Beach is located in Bug-Bug just 15 minutes from Candidasa by car or motorbike.
This gorgeous beach is everything you want in a sandy shoot – white sand, blue water, tall palm trees, and rows of small warungs serving local food and cold drinks. Pasir Putih is rarely very busy as it's quite out of the way, but go early in the morning and you might find you have the whole beach to yourself.
Now you have your Instagram planned for your time in East Bali you can relax and plan all the other amazing things you're going to do. We'd love to hear about your favorite places to take photos. Leave us a comment in the box below.