Bali's 10 Best Waterfalls
Here in Bali we're heading into rainy season, which means humid days and often downpours in the afternoon. We could see this as negative but it's actually the perfect time to find a place to cool down. And where is better to cool down than a fresh, mountain fed waterfall? Bali has tons of gorgeous waterfalls to visit, so let's get straight into 10 of the best!
1. Tibumana
For beginner waterfall chasers Tibumana is a great place to start. This waterfall is only about 25 minutes outside of Ubud in the district of Bangli. If you're looking for a place to wallow in cool water, this is the waterfall for you as it has a large, calm pool at the foot of the falls.
2. Goa Rang Reng
Just down the road from Tibumana is the lovely Goa Rang Reng waterfalls. This is much more of a rocky gradient rather than a fall, but is beautiful and has pools of fresh water to enjoy.
3. Sekumpul
If you are ready for a real adventure Sekumpul is worth the trek to get to. This group of 7 waterfalls in Buleleng regency has the absolute picture perfect jungle scenery, height and, and flow that really is awe-inspiring. It's often called the most beautiful waterfall in Bali but you'll have to visit them all to see for yourself.
4. Banyumala
This absolute gift from the gods is a twin waterfall in Wanagiri, just above Bedugul in the central mountains of Bali. It's so beautiful, it's often said it could be a movie set. There is a bit of a trek to get to the falls, so make sure you have sturdy shoes and are ready for the possibility of mud if you visit in rainy season.
5. Tegenungan
This is the closest waterfall to Ubud and probably easiest to get to walking-wise. This doesn't mean it's not spectacular, just that you might find more fellow tourists checking it out. Tegenungan is actually a pretty massive falls in rainy season and is great for splashing around and getting some fabulous holiday shots.
6. Aling-Aling
The area north of Bedugul on the way to Singaraja is famous for its waterfalls. Aling-Aling is one of the most famed for its natural waterslide and 5-metre high jumping platform (if you're brave enough). There are actually a few waterfalls in this area and you can see them all easily on foot.
7. Yeh Mampeh
Yeh Mampeh translates to Flying Water and you'll see why when you get to this waterfall in Singaraja. This is one of Bali's highest waterfalls, and also one of the least visited for some reason. In rainy season you'll see the full power of these magnificent falls and also get to cool down in the crystal clear water. You'll probably be ready for a good dip after the trek down through the jungle to get there.
8. Tukad Cepung
One of the closer waterfalls to drive to from most tourist spots, Tukad Cepung might not be huge but it has other charms. This waterfall is a photographer's paradise with the rays of light from the sun bursting through the rock formations to create incredible lighting effects. Don't miss this one if you are looking for Instagram shots to wow your followers.
9. Leke Leke
A perfect stop on the way north to Bedugul or Singaraja, Leke Leke is well signposted but seldom visited for some reason. It's only a short hike to these dramatic falls through lush jungle and across a rickety bamboo bridge that is great for photos. The falls have carved a beautiful cove in the rock here and making it feel like a private bathing pool.
10. Nung Nung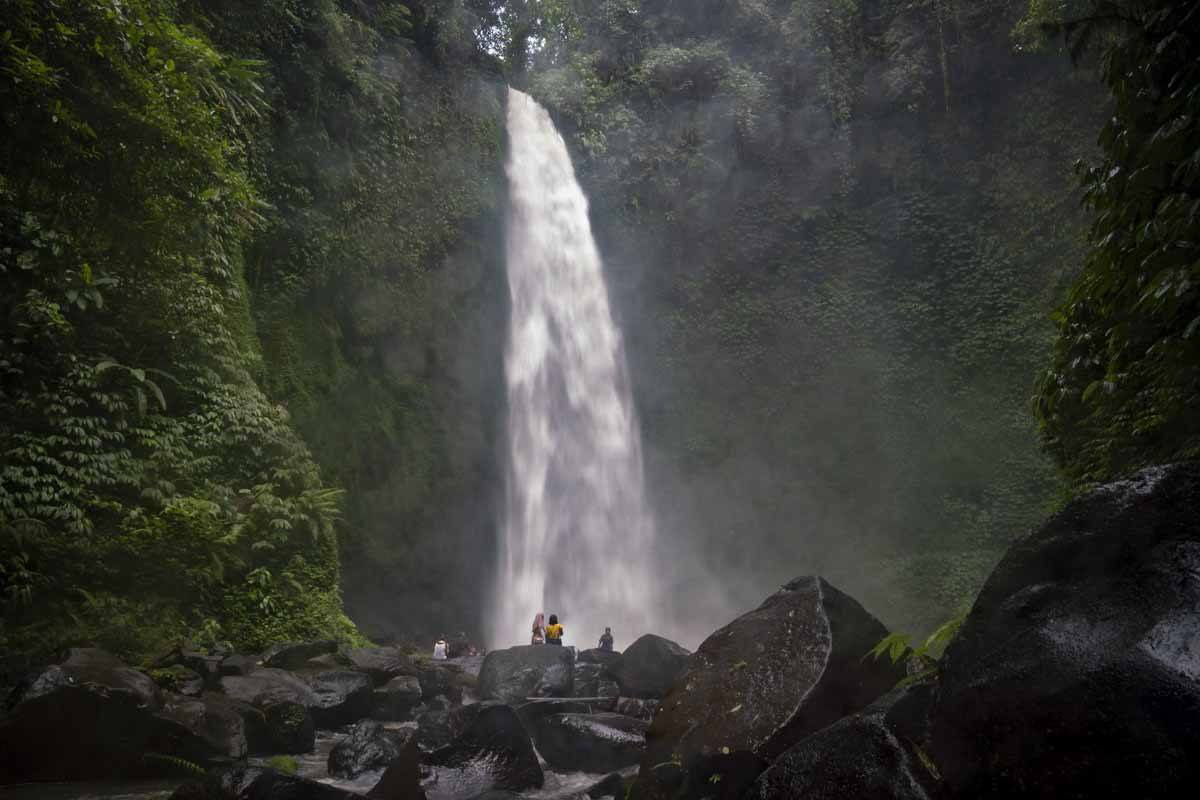 If you're feeling really adventurous and are ready for a real hike, Nung Nung waterfall is for you. This is a thunderous 50-metre high waterfall is in the village of Petang, which is around an hour from Ubud or 40 kilometres from Denpasar. You will have to descend around 500 steps to get the falls but it is 100% worth the workout. This is a really spectacular sight and only the most energetic tourists make it there so you could find it pretty empty.
Are you ready for some exploring? The waterfalls of Bali will show you a whole new side of the island you might not have seen before. Get out there into the jungles and discover the beauty of inland Bali!
Have you seen any of the waterfalls of Bali before? Let us know which was your favorite in the comments box below.